Advantages of "Kiri" (Paulownia Wood)
- The best advantage is not to take in moisture.
To put it simply, "paulownia wood is ring-porous wood similar to diffuse-porous wood. In paulownia wood, parenchyma tissues of cells are developed, and fiber and parenchyma tissues are combined together. So even though it has low specific gravity, it also has intensity and blocks moisture and heat." Since ancient times, there have been a custom to plant paulownia wood with a birth of a daughter to prepare for her marriage in the future in production areas for paulownia woods in Japan.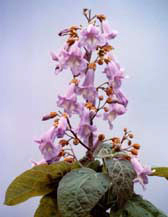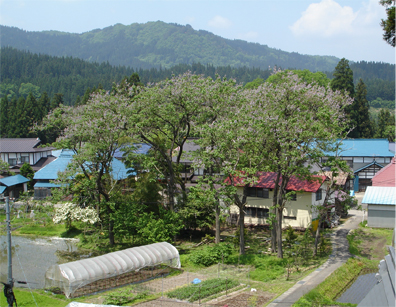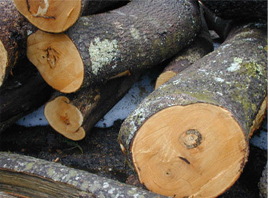 Paulownia wood has consistent quality of material.
★ There are remarkably few changes in quality of wood when compared several parts of paulownia wood. At the same time, quality of paulownia woods is very similar when they are produced in the same area because the quality changes in the same way. This is why paulownia wood is suitable for high precision works. Also, because it has consistent quality of material and good acoustic effects, it is suitable for making instruments. ★

Low water absorption rate and water permeability
★ Paulownia wood gives an extremely quick response to moisture, but it has low water absorption rate. Paulownia wood does not absorb water, and the surface does not penetrate moisture inside by being highly sensitive to moisture. This is the biggest factor of the advantage which paulownia wood chests do not take in moisture. ★

Low thermal conductivity
★ As the most prominent example, low thermal conductivity makes paulownia wood flame resistant. When the fire starts, a paulownia wood drawer gets slowly ignited because paulownia wood has low thermal conductivity. After water gets splashed on the drawer by fire fighting, etc., the surface of paulownia wood sensitively responds to the water, and surface temperature goes down. So the surface gets carbonized, but it does not allow the flame to reach inside. ★

Suitable for precision works
★ The characteristics described above may seem not to bring any advantages together. However, because of its consistent quality and elasticity and low absorption rate, paulownia wood does not stretch much. This means, paulownia wood does not require to be estimated for extra margin of stretch and suitable for high precision works. ★